Sports mentoring: Building stronger women and a better world
By
Evan Ryan, U.S. Assistant Secretary of State for Educational and Cultural Affairs
October 10, 2014
When you empower a woman, you elevate her entire community. This message exuded from the 17 international participants in this year's U.S. Department of State and espnW Global Sports Mentoring Program. This flagship program of the Department's Empowering Women and Girls through Sports Initiative pairs dynamic emerging leaders from around the world with America's top female executives in the sports sector for a month-long mentorship experience. During their final week in the United States, I had an opportunity to meet with these young women when they reunited in Washington to reflect on their exchange program and share how they plan to apply what they gained back home. They laughed, they cheered, they shed tears, and they supported one another. The mentors, many of them CEOs or busy leaders in their organizations, took days away to come to the closing event. These activities represented women supporting women, building both networks and skill sets, and can serve as the backbone to a more secure and prosperous world.
The Global Sports Mentoring Program allowed for the emerging leaders to further explore how sports instill the confidence, leadership, and teamwork that women around the world need to excel on the field, and also in life. "Sports changed my life because they took me to school," says Maqulate Onyango of the Mathare Youth Sports Association in Kenya. "This program helped me get out of my comfort zone to take my sports community soccer projects to another level and feel like one of the 'women with wings.'" Maqulate's experience underscores the growing evidence that girls who play sports increase their achievements in many areas including higher education, employment, and the development of leadership and decision-making skills.
The program is a two way street — mentors learn just as much from the experience as the emerging leaders. "The Global Sports Mentoring Program gives you a new appreciation for the impact that sports can have on individuals and society," recountsWomen's National Basketball Association (WNBA) President Laurel Ritchie, who has now participated for two years as a mentor. "When you know personally the positive influence sports have on your life, you have a desire to pay it forward; there's a powerful pass-along effect." According to the Women's Sports Foundation — which was also a participating mentor organization this year — 80 percent of women business executives in the U.S. played team sports and attribute their success to what they learned from those experiences.
As the program's closing sessions demonstrated, the Global Sports Mentoring Program serves as a stellar model for the kind of people-to-people exchanges the State Department implements to advance the rights and participation of women and girls around the world. We know that what can be considered as emerged leaders from the program will cause a ripple effect in their communities, where one woman's success encourages others to pursue their dreams. And the networks that result are the key. As my colleague Michelle Kwan said at the event: "You represent the most promising change agents in the world — through your power as individuals and through your power in the network."
Follow the Global Sports Mentoring Program on Facebook and the Empowering Women and Girls Through Sports Initiative on Twitter.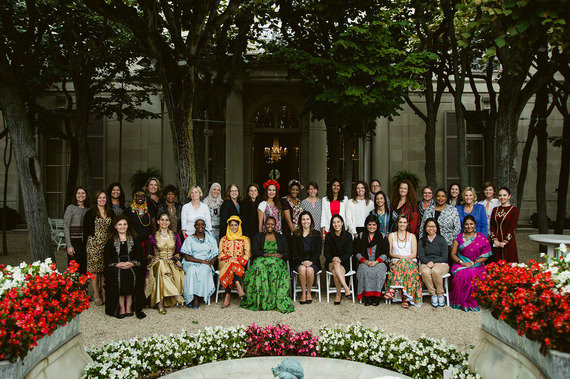 Assistant Secretary Evan Ryan and Senior Advisor Michelle Kwan meet with emerging leaders and mentors of the 2014 Global Sports Mentoring Program in Washington, D.C., October 7. (Photo credit: University of Tennessee Center for Sport, Peace, and Society).