Akhona Makalima is among first female soccer referees in South Africa
By
Brian Canever, espnW
October 16, 2018
Akhona Makalima still remembers the date: Feb. 28, 2015. It was her mother's birthday.
It was also the day she would make history.
That afternoon Makalima debuted as a center referee in a Premier Soccer League (PSL) match between the University of Pretoria Football Club and Mpumalanga Black Aces; one of the first women to officiate a men's professional soccer match in South Africa.
In the minutes leading up to the match, her heart beat fast and felt heavy in her chest. She emerged from the tunnel trailed by whispers from male officials nearby: "A woman? Is she even qualified to do this?"
They must not have been there four years earlier in August 2011 when Makalima earned her first refereeing certifications as part of a South African Football Association (SAFA) initiative to get more women involved in the game. They must've missed the news about her becoming the first South African woman to pass FIFA's fitness test for certifying referees — a combination of sprint and endurance standards required for refereeing men's matches that only one other local woman, Thembisa Siyatsha, passed (Siyatsha failed on her first recertification attempt, and has since left refereeing).
From the first to the final whistle, Makalima looked out at the packed stadium and thought about what would happen if she made a mistake on national television; what would it mean for every other woman dreaming of one day standing among the men, being the one giving the directions and blowing the whistle, if she failed? Makalima repeatedly prayed under her breath, "God, give me the strength to make it through this." For 90 minutes, she felt like she carried the weight of all South African women on her shoulders.
"Fortunately, the game went very smoothly," Makalima recalls of the match, which finished 2-1 in favor of the University of Pretoria. "Afterward, the internet was going crazy with people talking about a woman refereeing a game. Many people questioned why I was there. Others stood up for me and said, 'Look at her decisions. She knows what she's doing.'"
Since that first match, Makalima has made a name for herself as the "SheRef," a title she proudly owns on her social media accounts. After hundreds of matches in the PSL, Sasol Women's League and Africa Women Cup of Nations, passing all of her fitness tests even as male colleagues failed their own, she has established herself among South Africa's top referees.
Even as Makalima receives national acclaim for her accomplishments, she doesn't intend to stand alone in the spotlight. Earlier this year, she was offered the opportunity to participate in the 2018 U.S. Department of State and espnW Global Sports Mentoring Program (GSMP), a five-week international exchange where she'd work with a mentor to develop an action plan for making an impact back home. Makalima will work closely with Katie Montiel Vidaillet, director of public relations and communications for Gatorade, to develop the skills she needs to recruit and train women.
In 2016, Makalima founded what she calls her "baby program," Inter-Refs. Based in Eastern Cape, Inter-Refs teaches girls age 7 and older about the laws of soccer. She currently works with more than 60 girls, many facing the same challenges she did as a girl growing up in the rural village of Nqamakwe, where her grandfather raised her in a five-bedroom home occupied by more than 25 family members at times.
"I believe if girls can excel in sports, they will also excel in academics," Makalima says. "Sports give girls confidence, education and friendship. It takes them away from negative activities and refreshes their minds to desire more for their lives."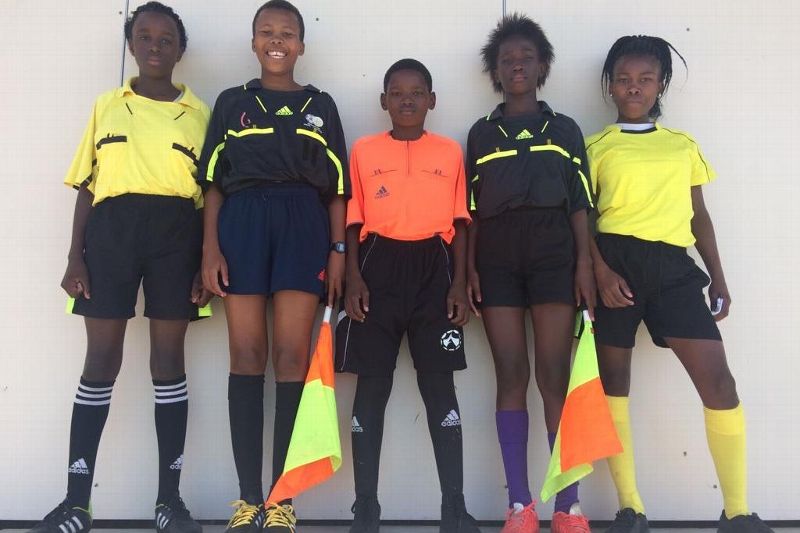 With the help of Vidaillet and her team at Gatorade, Makalima has set the ambitious goal of recruiting and training at least 162 female referees in her province. Recently, the country's national soccer federation, SAFA, vowed to make Makalima's program a national priority, boosting the prospects of making her once-improbable dream a reality across the country.
As it once did from nerves stepping into the center circle on game day, Makalima's heart now beats with excitement for the opportunity to help inject girls' lives with purpose. Especially those girls who feel they've lost their chance at life before they've even finished their teenage years.
"I am someone who came from the same background, or even worse," Makalima says, "and I want to show them sport and education go together and that they have a future waiting for them if they choose it.
"For girls who are teenage mothers, this is their second chance. Their lives aren't finished. I'm not going to lie: You cannot be a referee without an education. But through refereeing, I will reinforce the importance of education for women."
As a GSMP participant, Makalima will learn important business skills to supplement her abundant passion. Vidaillet and her Gatorade team will spend three weeks working to teach Makalima more about sponsorship, fund-raising, engaging the community and providing fundamental mentorship that she can replicate with other women in South Africa.
"I never wanted to be a light that shines alone," Makalima says. "If we have more lights shining, we will leave no shade. We will not miss anybody. We will light up tomorrow."
Brian Canever is the digital content manager for the Center for Sport, Peace, & Society at the University of Tennessee and works closely with the GSMP participants.
Original article: http://www.espn.com/espnw/culture/global-stories/gsmp/article/24958834/akhona-makalima-becoming-certified-female-soccer-referee-south-africa