After summiting Mount Kilimanjaro, Samar Khan asks, 'What's next?
By
Brian Canever, espnW
October 19, 2018
Facebook helped Samar Khan actualize her dreams. She had ambitions of becoming a scientist and a cyclist. However, hailing from the rural village of Dir Khas in Pakistan, born to a conservative Pashtun family, she was taught that greatness came with restriction. Khan felt that her gender would be a barrier of entry.
Through the social media site, Khan, who earned a master's degree in physics from Federal Urdu University in 2015, discovered a civilian paragliding course organized by the Army School of Physical Training in Abbottabad, the capital city of Abbottabad District in the Hazara region of eastern Khyber Pakhtunkhwa, Pakistan. She mulled the possibilities for months.
About four years ago, Khan opted to attend the male-dominated class. "For the first time in my life I felt like I had no cages," Khan said. "I felt free."
The course introduced Khan to other adventure sports, including cycling. She was drawn to the challenge of riding along mountaintops on two wheels. She went all in.
In August 2016, Khan made history as the first woman to ride a bicycle along the more than 14,760 foot-high Biafo Glacier, the world's third longest non-polar glacier, in the Karakoram Mountains of Gilgit Baltistan in Pakistan.
"I bought a used bike and bought all my equipment in second condition," Khan said. "I did the whole 10-day journey on my bicycle."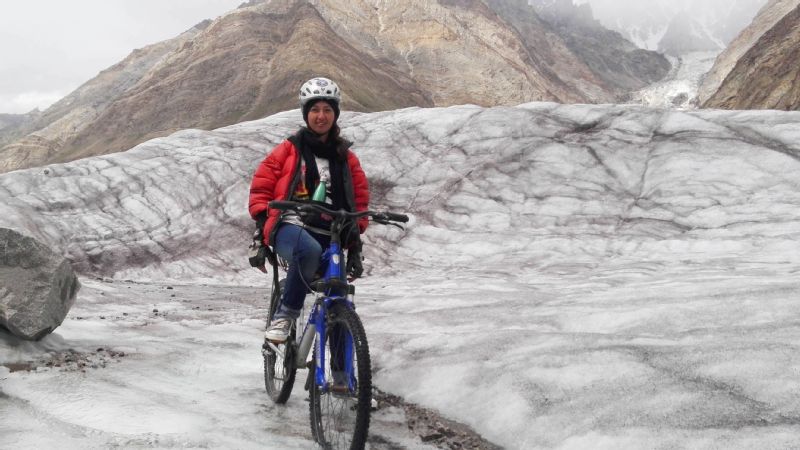 In December 2017, Khan followed up her history-making achievement by becoming the first Pakistani woman to ride a bicycle atop the summit of Mount Kilimanjaro, the highest mountain in Africa. This feat made news headlines across Pakistan. The Express Tribune called her "a daredevil extraordinaire" and The News International called her achievements "groundbreaking."
"The Army sponsored me and I flew to Kilimanjaro. I trekked from Moshi, Tanzania, and it took me six days to reach the peak. At the top, I biked [a few miles], then cycled down," Khan said. "It took me about a day to reach the bottom."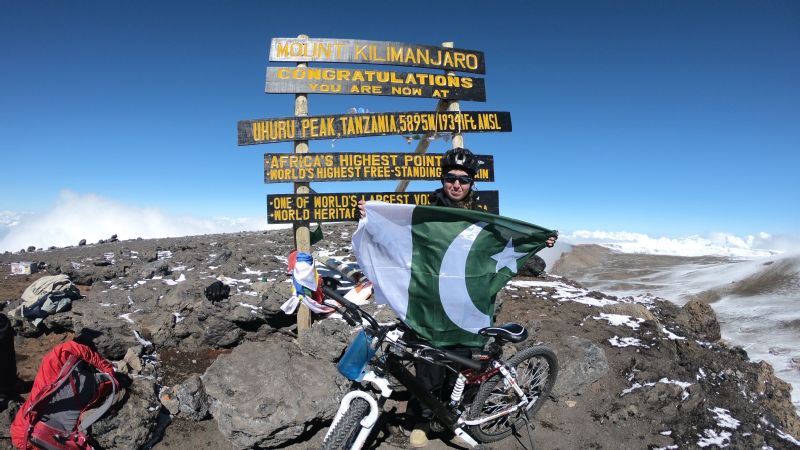 And now Khan is ready to carve out a place among her country's next generation of elite adventure athletes.
As a member of the 2018 class of the U.S. Department of State and espnW Global Sports Mentoring Program, she has taken one major step closer to her goal. Mentored by Donna Carpenter, CEO of Burton Snowboards, Khan expanded her vision. Not satisfied to reach the summit alone, she now works to establish adventure training centers across Pakistan, where girls and women like her can be emboldened to grab hold of their dreams.
A two-time presenter at TEDx conferences in Pakistan, and a brand ambassador for several initiatives related to gender equality and environmental protection, Khan hopes her expanded platform will continue providing her with opportunities to conquer new peaks. For her next expedition, she plans to summit Europe's highest mountain, Mount Elbrus, and cycle atop its peak.
"I want people to see the courage of women in Pakistan," Khan said. "I want the girls in my country to discover the courage they have inside of them. I wasted so many years of my life in fear, doubt and misery. I don't want this for our girls. I want to open their eyes."
Original article: http://www.espn.com/espnw/w-in-action/gsmp/article/25020394/after-summiting-mount-kilimanjaro-bike-samar-khan-asks-next